Take a Boston Swan Boat Ride!
Planning a summer trip to Boston? If your family is like mine, we are always looking for something interesting and different to do. One Boston activity that is enjoyed by all ages are the Swan Boat rides in the Boston Public Garden.  A relaxing and inexpensive activity you can find nowhere else in the United States, the Boston Swan Boats are not to be missed.  Take a ride on a Swan Boat and you'll feel like you've just gone back in time! The Boston Swan Boat season runs from April until September, and a Swan Boat ride is a great experience for tourists and locals alike!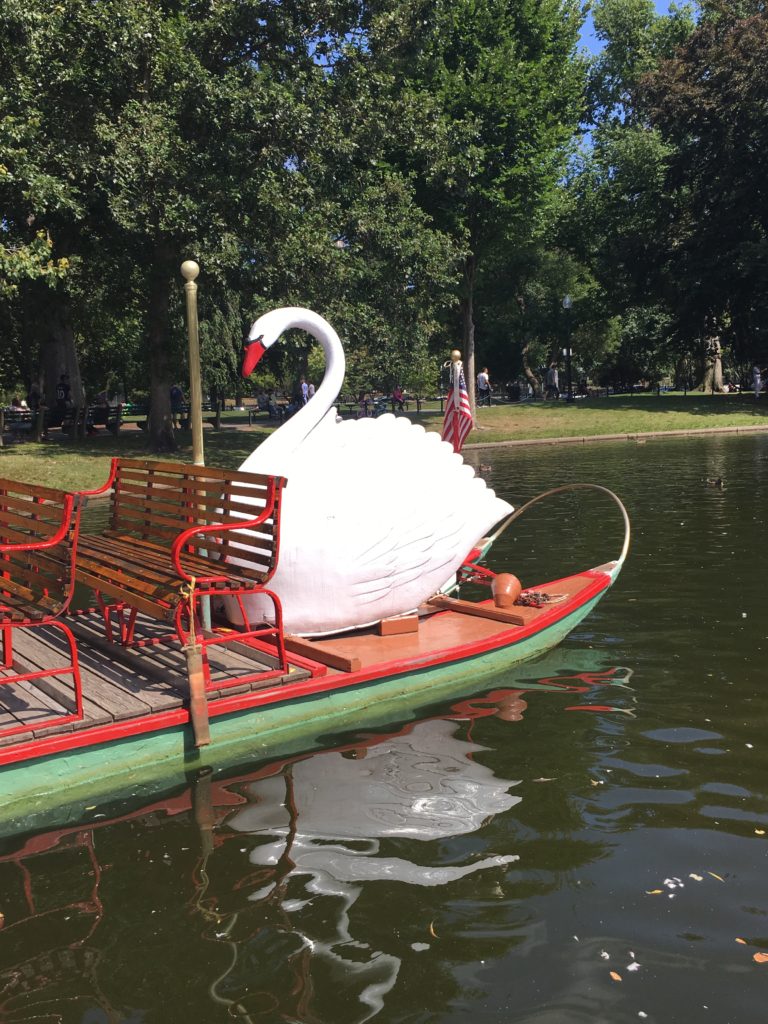 Located in the Boston Public Garden, the Swan Boats are easy to get to by public transportation (get off the Green Line at Arlington) or you can simply park your car across the street in the public garage located on the Charles Street side of the Boston Common. Boston's Swan Boats are considered a major tourist attraction as well as a cultural icon, so if you are planning to visit Boston, make sure you put a Swan Boat ride on your bucket list.
A part of Boston's culture since 1877, they have been built, developed and operated by the Paget family company since their beginning. In the late 1800's Robert Paget came up with the idea for the boats after seeing the Opera Lohengrin. In Lohengrin a knight crosses the river to save his heroine via a boat drawn by a swan, thus Paget adapted the idea to his commercial enterprise. The Swan Boats are actually long pontoon, paddle boats with a brass bumper. The driver is covered/hidden partially from view by a large white swan and clearly gets an athletic workout paddling the boat throughout the public garden lagoon.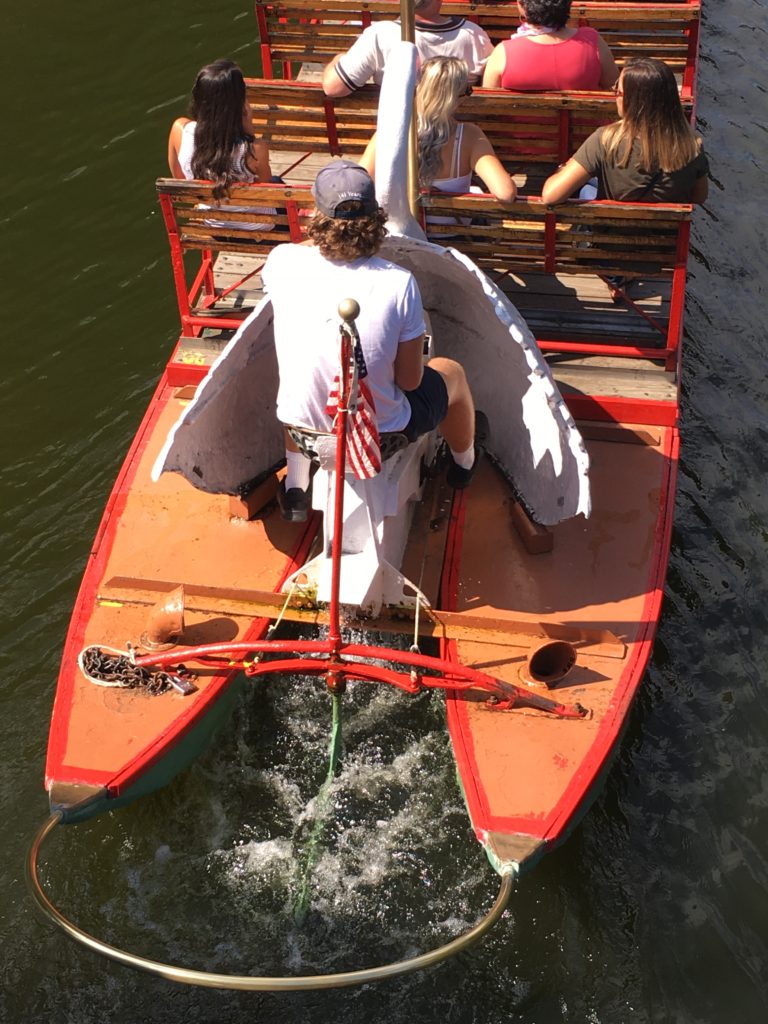 Each boat holds up to 25 people, but they day we visited the ticket takers loading the boats were very careful to keep family members on the same rows and not to overload the boats.  This was great in that it gave all of us wonderful views and made the boat ride quite enjoyable.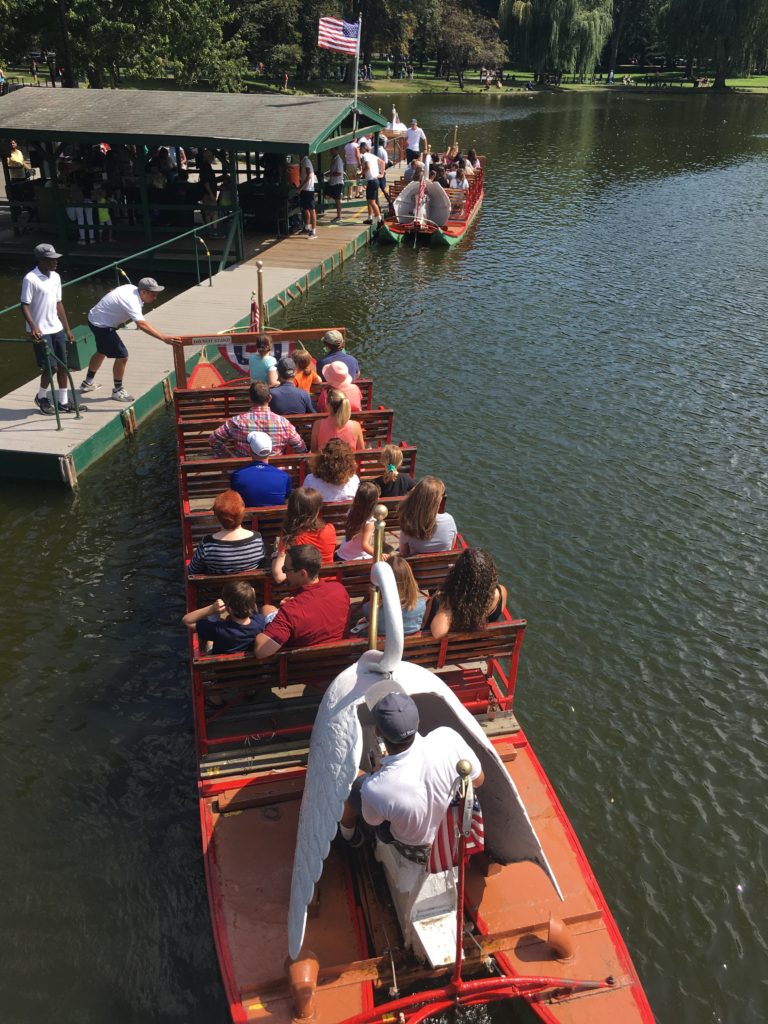 Boston Public Garden has a lovely lagoon in the center of the park, and that is where you'll find the Swan Boats.  Tickets are $4.00 for an adult and $2.50 for children.  The ride takes about 15 minutes and during that time you will travel around the entire Boston Garden lagoon – circling the tiny Mallard Island (where numerous mallard ducks hang out as well as the lagoon's two swans – Romeo and Juliet.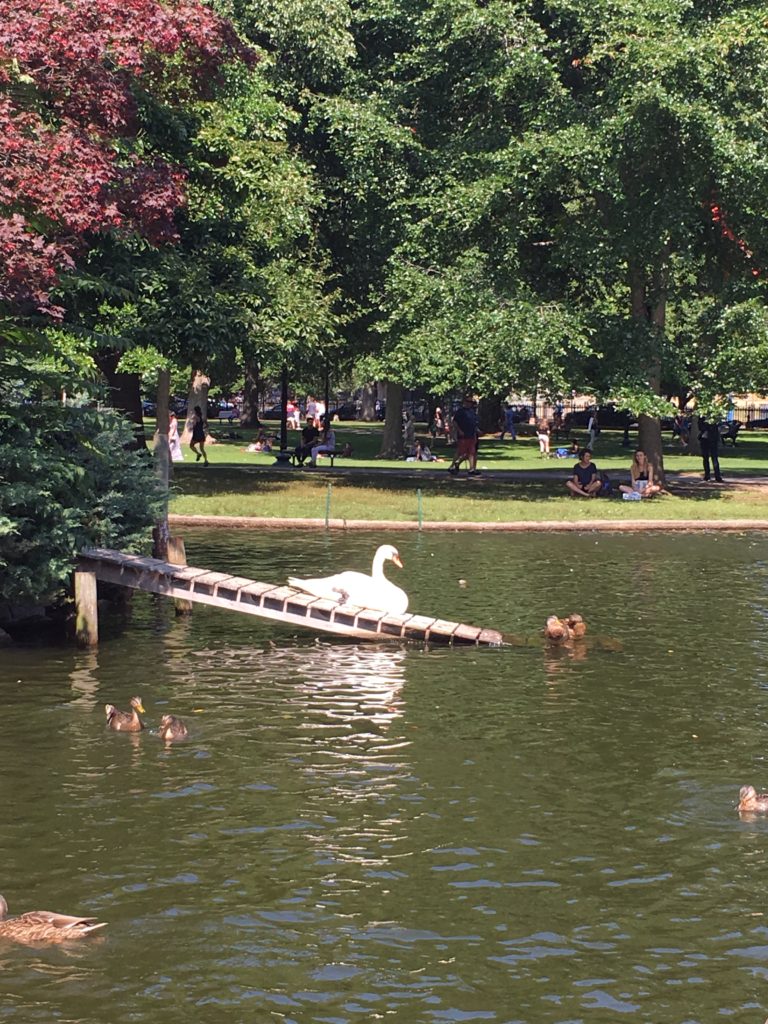 Sit back and enjoy the breeze, the ducks, the swans, the public gardens and the experience. It will be one of the most memorable of your visit to Boston!