The Easter Cake Disaster  
When I was a child, one of my grandmother's Easter traditions was to make adorable butter lambs for our Easter table. Grandmother prepared several of these lambs – pressing softened butter into fragile plastic molds that she later decorated using peppercorns for eyes and tying a thin red ribbon around each lamb's neck. We were always careful not to cut off the head as it just seemed wrong, but we thoroughly enjoyed buttering our rolls with portions of the Easter butter lambs.   I missed those lamb molds as an adult, and when I ran across a mold for an Easter lamb cake, it sounded even better than the butter lambs so I knew I had to buy it.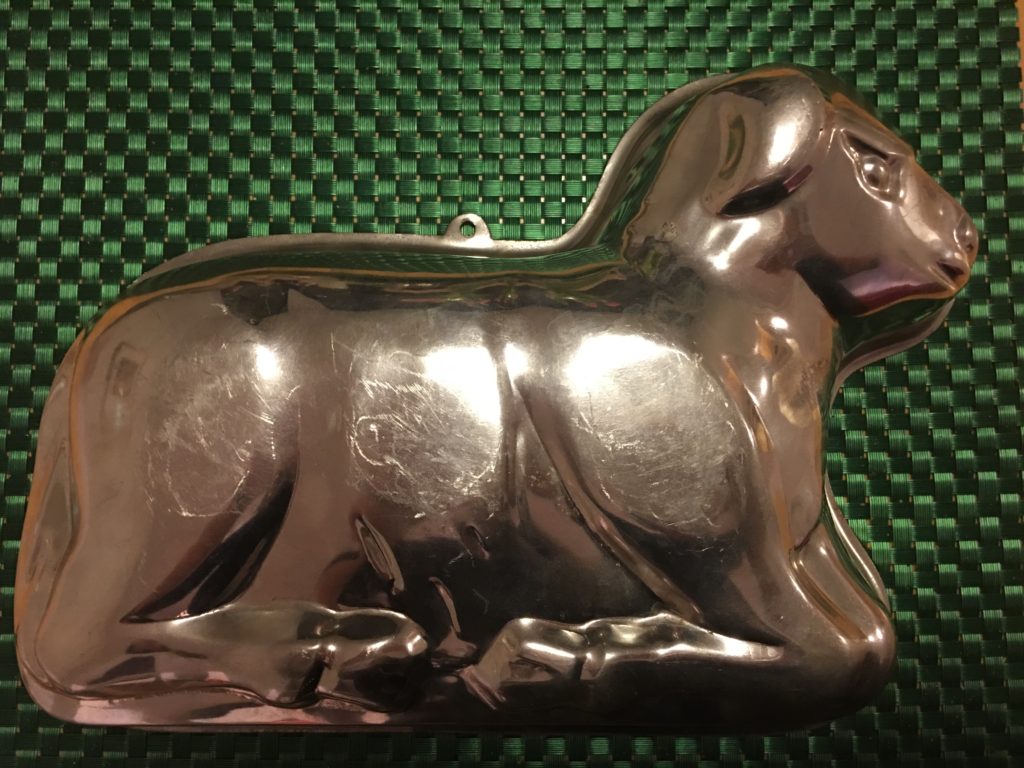 My first attempt at a lamb cake went fairly well – my molded chocolate cake stood upright and I frosted it using white icing and then covering the icing with shredded coconut. We were going to my sister's house for Easter, so I was proud to bring my Easter dessert lamb for everyone to enjoy. I knew the family would love it, and I was probably correct had we not encountered a difficult traffic situation enroute to her home. Bottom line was that we were forced to brake hard to avoid another car. In doing so my lamb cake was thrown forward from the back seat – decapitating the lamb, smearing the frosting and breaking the lamb into pieces. I was horrified –my dessert was ruined. My lamb was destroyed. I briefly cried. It was an absolute mess. What would I say to my sister? Was there any way to salvage it?
When we arrived at my sister's home, Jonathan carefully worked with me to get the lamb's head reattached via toothpicks. The poor animal still looked fairly grim and although we tried to patch it together, it would no longer stand and was not a dessert that anyone tried – except out of pity…
This year would be different. It had been several years since my lamb cake fiasco and this time I would be serving the cake at home – thus no car catastrophes could occur! I would make the lamb cake the day before Easter – carefully icing it and preparing it for our holiday meal the next afternoon.
However, that night, when I pulled out the ingredients, I realized I purchased not cake mix but brownie mix, and that would make a huge difference in the ability of the cake to: 1) slip out of the greased pan, 2 – stand as a lamb, and 3) hold together without splitting. So nothing worked as expected, and although I used the recipe for cake-like brownies, they still split across the top. Once cooled, Adam and I scooped as much of the lamb brownie out of the mold as possible and then started pushing it together on another cake pan.   There was no way it would stand, thus it would be a lamb on its side. The lamb actually looked fairly good so I decided to cover it and ice it in the morning. Jonathan confirmed that it seemed pretty good to him, thus I had a peaceful night's rest thinking that once iced, the brownie cake would look respectable as a sweet little lamb…
The next morning I discovered the back end of the cake was missing! When I asked Jonathan and Adam, Jonathan looked puzzled and said he thought the lamb was ready to eat so he had started eating it!!!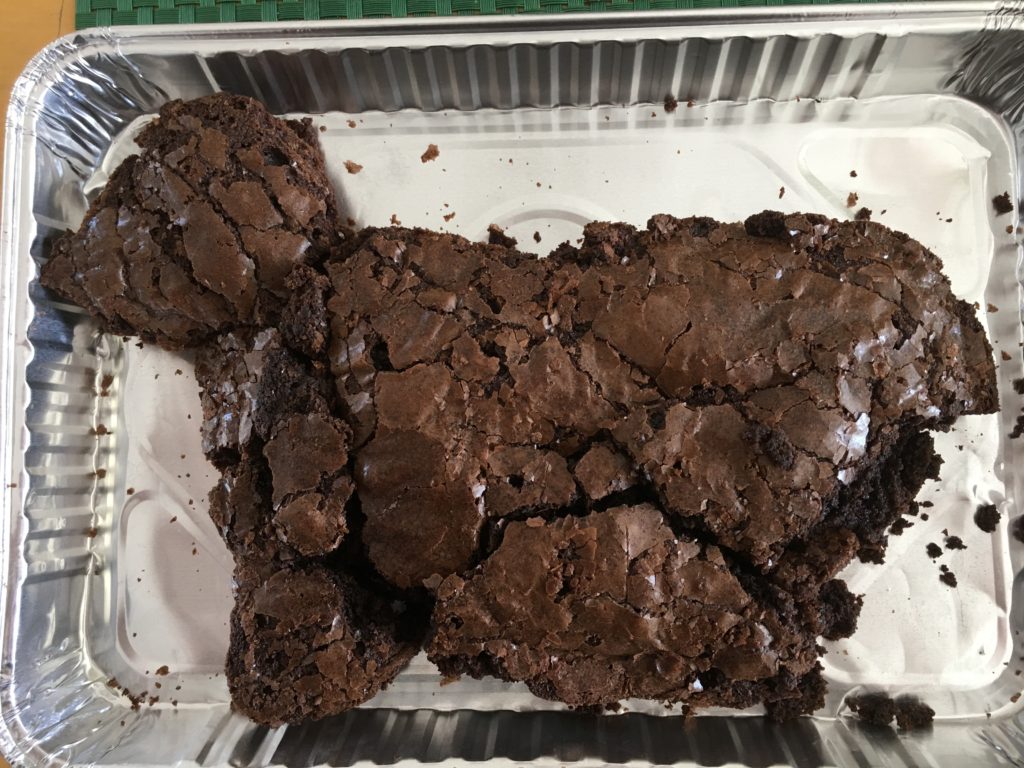 So it was with "heavy heart" that I tried to salvage the lamb and construct a lamb cake for our Easter dinner dessert. Here is the outcome.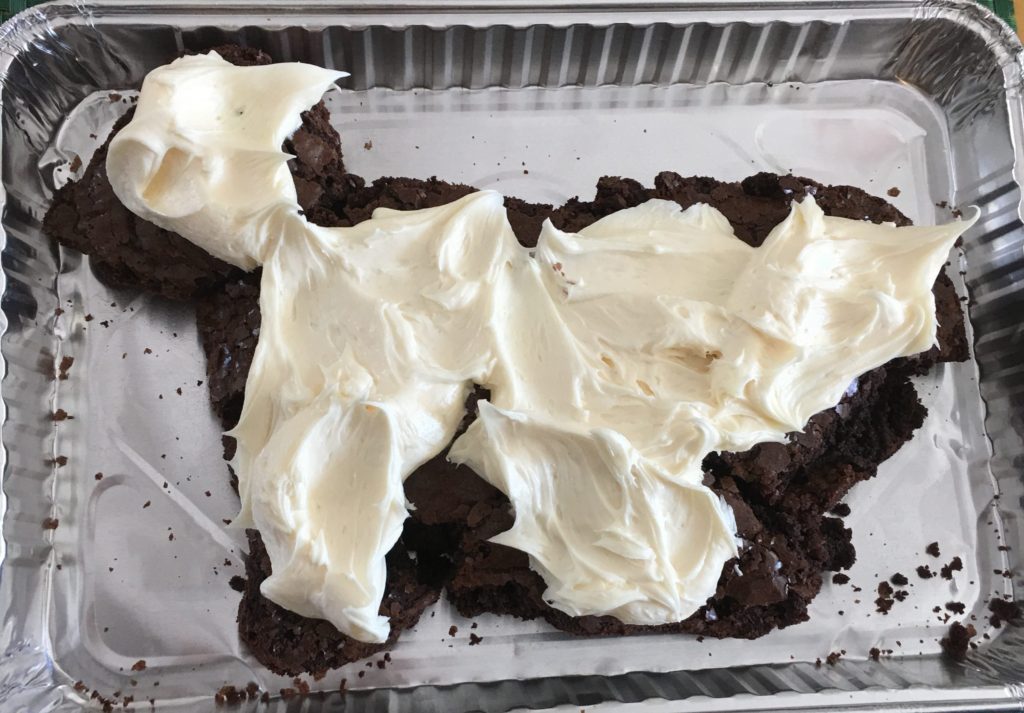 Clearly this is not my area of expertise – no matter how much I would like it to be. I frosted the brownie chunks as much as possible and tried to build a frosting "back end" on the lamb.  In the end I learned you really can't use brownie mix for a lamb cake.  And, perhaps it is better to leave such cakes to those who really excel at baking!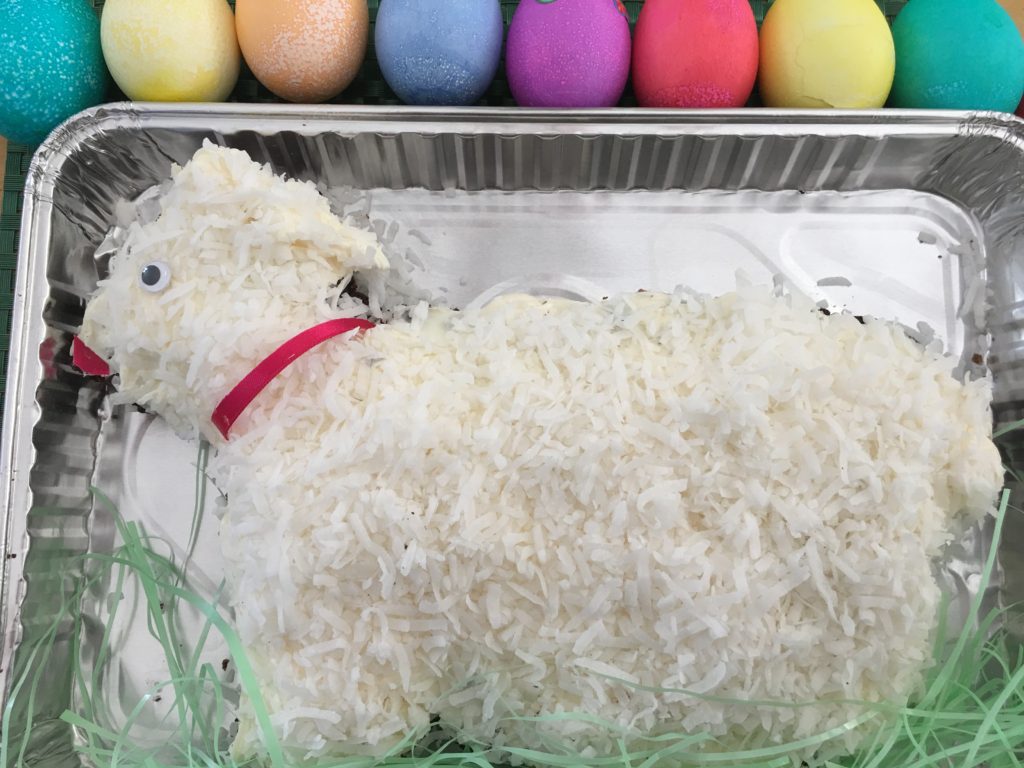 Jonathan and Adam tried to cheer me up and actually ate most of the lamb over the course of several days.  Nevertheless, this would not win any prizes for an Easter cake.  After looking at the results and considering all the effort, I have decided to shop for a butter mold in the shape of a lamb for next year. What could possibly go wrong pressing butter into a mold? It worked for my grandmother so hopefully it will work for me.